Cordless Water Dental Flosser, Portable Oral Irrigator 300ML 3 Modes, TUREWELL Waterproof USB Rechargeable Water Teeth Cleaner, Cordless Electric Dental Pick for Travel/Home/Braces
Regular price
$29.99
$0.00
Unit price
per
Brand: TUREWELL
Features:
Anti Accidental Touch Power Button & 300ML Capacity: Long press on the Off/On button for 2 seconds to start, which can avoid accidental touch leading to spray water everywhere; Upgraded 300ML detachable and hidden water tank allows you to thoroughly clean the limescale; Battery indicator light displays green, blue or red for different battery level.
6 Dental Water Jets for Family Use: Comes with 2 ordinary high-pressure tips and 4 special use jet tips (1 Periodontal Tip, 1 Dental Plaque Tip, 1 Orthodontic Tip, 1 Tongue Cleaner Tip). 360° rotating nozzles, up to 1800 times/min water pulse and 100 psi water pressure, can deeply remove 99.99% food debris and massage gum that toothbrush, tooth pick or floss can't reach.
Long Battery Lifetime & USB Interface Charging: powerful lithium battery can be used for 2 weeks once fully charged. Rechargeable water flosser cordless design can be charged with power adapter, power bank, computer or car charger.
3 Modes & Intelligent Safety: Normal, Gentle and Pulse modes to meet various oral care needs. Preset a certain mode and the Memory Function helps to keep that mode for the next use. IPX-7 Waterproof design ensures safe use in the shower. Smart timer automatically turns off after 2 minutes' use to prevent gum damage.
Portable Water Flosser: Also perfect water flossers for braces/kids/dental implants. TUREWELL water teeth flosser with FDA certification supports 1-year quality commitment and lifetime after-sale service via e-mails.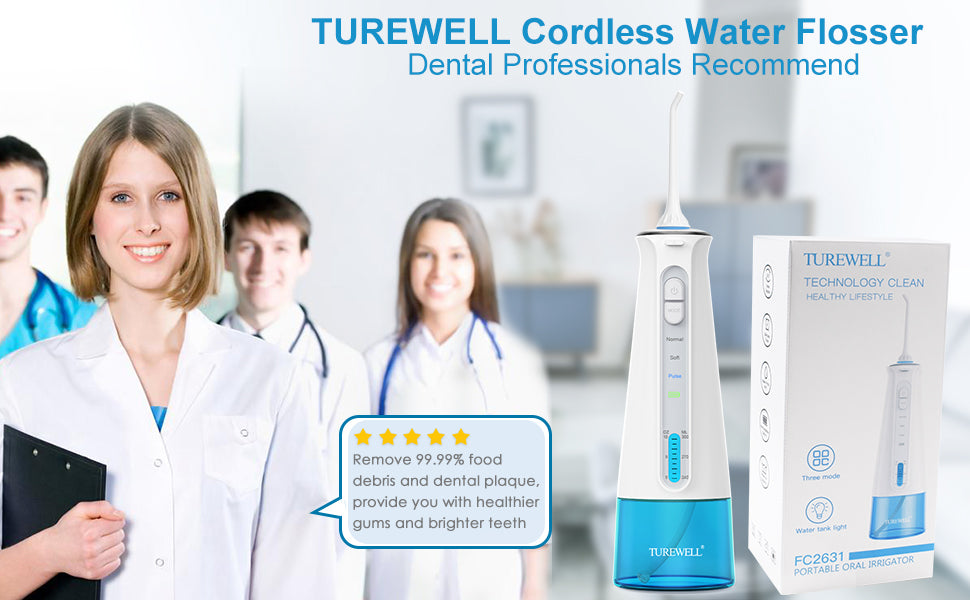 Details:
How to use cordless Water Flosser :
Add water into the reservoir, close the lid to avoid the water spillover.
Plug the jet tips which you need in the handle.
Soft, Normal and Pulse water pressure modes available, you can choose the most appropriate strength.
Aim the tip at teeth graces, gumline or tongue.
Switch ON of the handle to clean your mouth.
If there is no water coming out, please check if the rubber plug in the tank is in the right direction.
Warm Notice:
Don't let the water aim at the throat or eyes.
Could be filled with warm water or add mouthwash.
You had better close most of your mouth to avoid the water spray off.
Change new nozzles every 3 months is healthier.
Soft mode would be recommended for first-time users or sensitive teeth. After adapting to it, you can use the other mode you want.
Do NOT mix mouthwash in the reservoir, you risk creating a jam or clog in the hose or machine. If you are sharing this machine with your family, make sure you each use separate attachments, for proper hygiene
The pressure in different jet tips are different:
There is no pressure about the toothbrush tip, whose function is to clean the residue on the teeth.
The Tongue Cleaner Tip is also in no pressure since the function is to clean your tongue, if the pressure is too high, your tongue will be hurt.
Other jet tips are all with different high pressure, you can choose the comfortable pressure.
Package Dimensions: 9.6 x 4.3 x 3.0 inches
---