Your bedroom is a sacred area where you rest and have fun at times. That is why a special atmosphere is required. Luckily bedroom led string lights can help you succeed with the task in no time!If you have a love for home design, then the best place to start is with LED strip light bedroom ideas.Bedroom lighting helps your decor reflect your personal style, but it can also be a very practical solution for any budget. Not only is it more affordable than ever before,but also it is functional,flexible and thin,which means that they can be placed where traditional bulbs won't go for sure.In this blog, we will explore the popular ideas and how you can successfully implement Weily LED strip lights to your bedroom.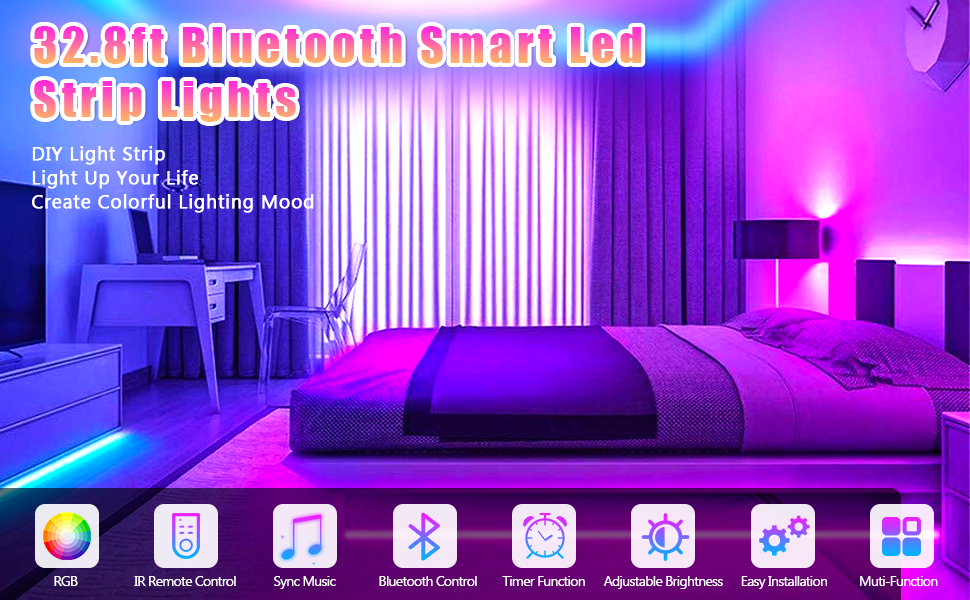 Bedroom lighting ideas on the headboard
Let's start with feature lighting around the bed. What would a soft glow around the headboard do for your bedroom lighting design scheme? The headboard glow can be achieved by installing LED lighting strips behind your headboard. Hidden in the headboard, the refracted light makes the top of the bed more three-dimensional and gives the bedroom a warm and romantic atmosphere.
Bedroom lighting ideas around the bed
Put a circle of LED light strips on the bottom of the bed, without turning on the main light at night, the light can promote sleep, and even if you're lying on the bed and playing with your mobile phone, it will also reduce eye irritation. If we need to get up at night, the light can also illuminate, but it will not particularly glare in the eyes to affect your sleep. LED strip lights under the bed can also help create a warm and romantic atmosphere, which is more conducive to fast sleep.
Bedroom lighting ideas behind the TV
Do you watch TV in bed? If so, you can put LED strip lights behind the TV, so that when you watch TV at night, there is enough light so as not to hurt your eyes. Pretty enjoyable, right?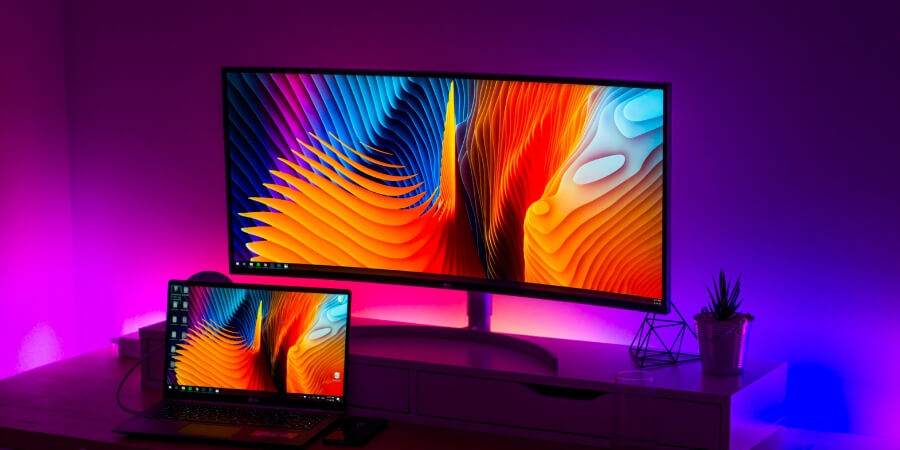 Bedroom lighting ideas in the ceiling
Embedding LED strip lights in the ceiling is also a very common and great idea. Ceiling lights can be hidden so that the light source indirectly illuminates the ceiling through reflection, breaking a depressing looking space caused by the dim ceiling, the combination of light and dark can enhance the layering of the bedroom.
Bedroom lighting ideas around the furniture
Aside from the 4 methods described above, we can also decorate around the furniture with LED strip lights. If you have a dressing table in your bedroom, you can also put the LED strip lights behind or in front of the mirror, so that it can be used for lighting as well as a supplementary light for makeup or taking photos. You can't miss it.
Check the key features of Weily LED strip lights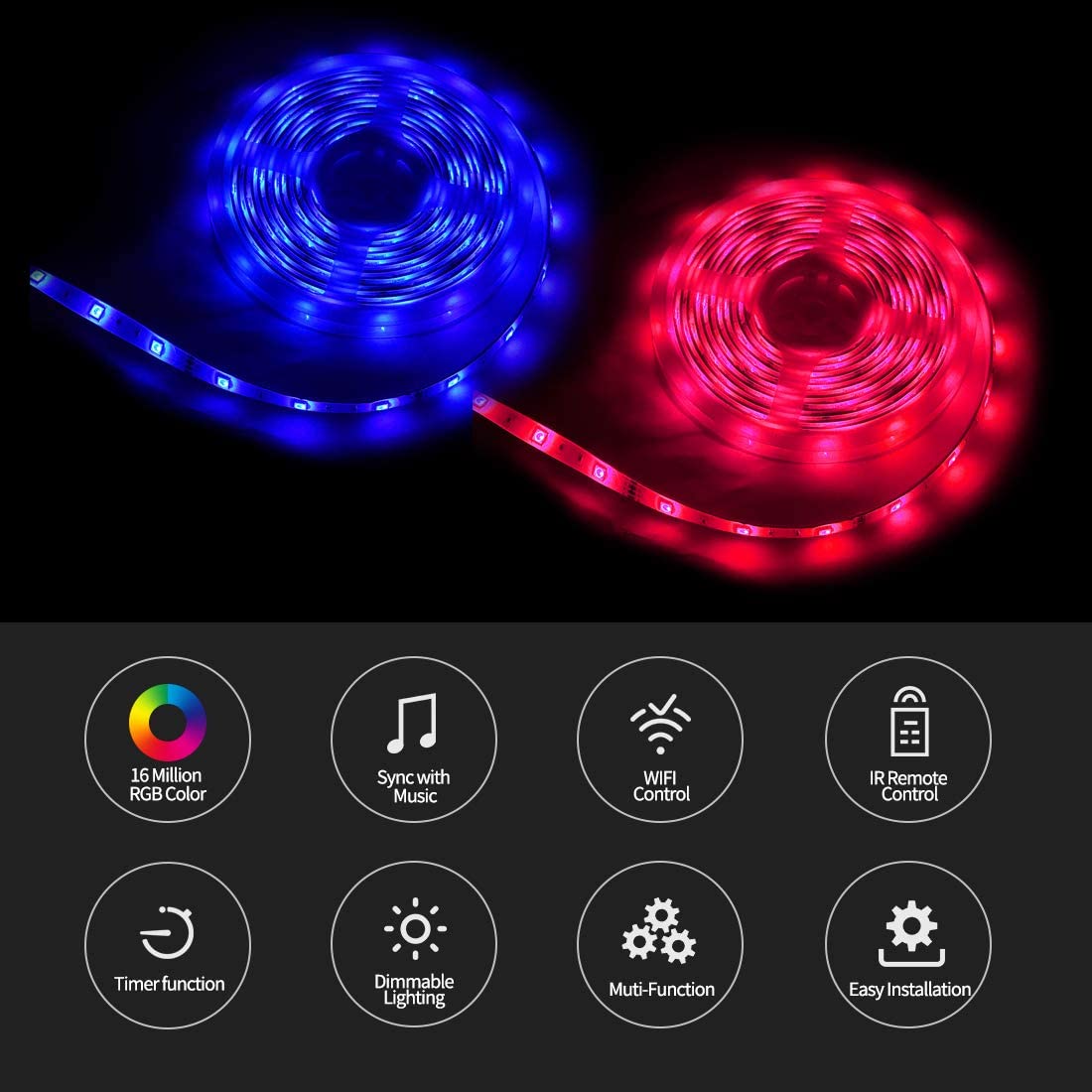 App timing and memory functions
The Weily LED light strip has a timer function. When you use smart phone to control this bluetooth LED strip,timer function can make the light go ON/OFF at a certain time according to your schedule.Especially when you are prepared for a dating,the led lights can be turn on in advance for a surprise. And the led strip lights has color memory function, when you turn it on, it will be the same as the last use.
Dynamic music mode & millions of RGB colors
With built-in high sensitive mic,the color of and speed the bluetooth led strip lights can change according to the rhythm or melody,create your unique mood atmosphere.When you use your smartphone to control this bluetooth LED strip, you can choose other light modes, like Flashing, Breathing, Strobe,you can also find any color you like or multiple DIY modes to meet your mood lighting difference.
Self-adhesive for easy installation & safety in use
No tools are needed to install LED tape, just tear off the back self-adhesive tape of LED tape and stick it on a clean dry surface. You can cut the LED strip lights every 3 LEDs along the cutting marks to match the length you need.12V 3A UL listed power adapter has overcharge & short circuit protection function,safe to touch and harmless to children.