Generally, the remote controllers of different brands and models are not quite the same. Here, we will take the highly popular Weily LED strip lights as an example to show you how to use wireless LED strip lights with remote to adjust the strip light effects.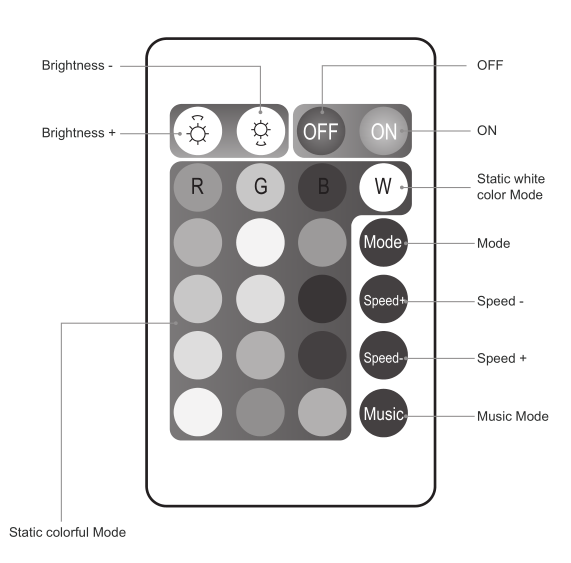 Switch on/off: The two buttons on the upper right corner is meant for turnning the remote control on or off.
Brightness: The two buttons on the upper left corner are meant for adjusting the brightness of the strip light. 
Static colorful mode and static wihite color mode: Set 16 colors in the static mode area. Press key to adjust the strip light to the corresponding color. 
Mode: You can download APP to DIY the color that you want.
Speed(-/+): These two buttons are used to adjust the strobe speed of the light. The light atmosphere created by different speeds may be completely different.
Music mode: when sensing music, the light colors is automatically jump changing with rhythm and intensity of music. When no music, the light colors is fixed on some color.
How to Turn on LED Strip Light Without Remote Controller
Without the remote control, is it still possible to turn on the strip light or adjust the light effect? The answer is yes, of course you can. In fact, with the smart LED strip light, you can now connect the strip light to the mobile app, turn on or turn off the strip light on your mobile phone, set the light color and brightness, adjust the light mode, and even set the timer switch. All of this can be done conveniently.
Take the Weily 15m wifi LED strip light for example. The remote control for this strip light is the same as that for the ordinary RGB LED light strip mentioned above, but because it is the smart model, you can connect it to WiFi and add the strip light as a device to the mobile app, and adjust the light effect through the app. Here, you can set the corresponding light effect in each scenario, which is equivalent to the DIY mode of the remote control. The timer and countdown switch are functions that are not available on the remote control.