LED strip lights are an increasingly popular choice for kitchen lighting. They create a stylish and contemporary look and provides an ideal opportunity to flex your creative muscles to decor your home. So, here's a list of ways to utilise it in the hub of your home…
Glass Cabinets Display
In the kitchen, you may have glass cupboards or even a dedicated cabinet to house your best china or ornaments. And the host likes to see their collection properly displayed for visitors. LED strip lights represent a quick and easy solution to illuminating the inside of a display cabinet. They're available in a wide variety of types and colours to give you the amazing effect you're looking for! Simple to install using their strong self-adhesive backing tape, LED Strip Lights will last for long time.
Under Cabinet LED Lighting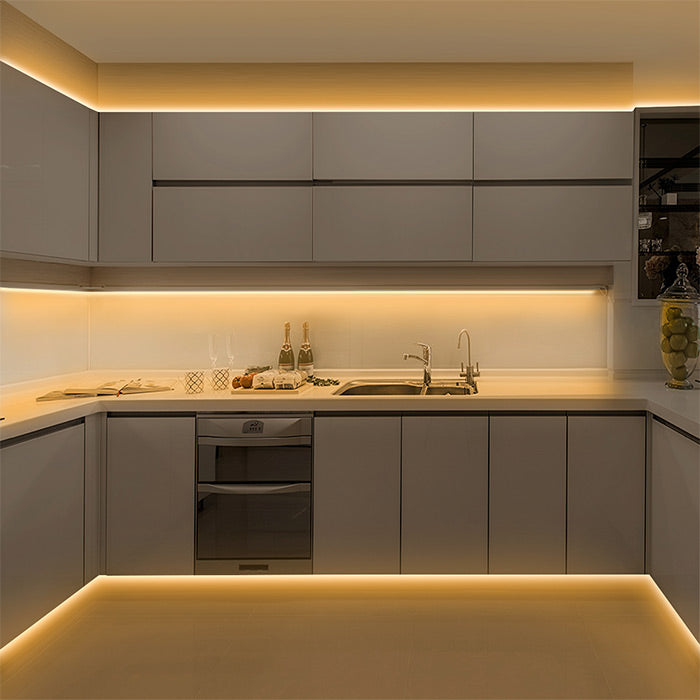 While people have used fluorescent bulbs and spotlights under their cabinets for years, LED strip lights now enables you to achieve exactly the same effect for an affordable price and more conveniently, too! As with the above mentioned cabinet lighting, you can simply affix LED strip lights to the underside of your cabinets. Once installed, they'll definitely give your kitchen space a chasing factor! As the kitchen can become quite damp with steam or splashing water, ensure that you opt for LED strip that has a sufficiently high IP-rating. Anything from IP44 to IP67 will be absolutely fine for this purpose. Weily led strip lights IP-rating can reach at IP65.
FAQ About LED Strip Lights
How to install LED strip lights?
Choose your starting point based on where your controller will be. It must be connected to the mains power so its location might be limited.
Please clean the surface ,and ensure that the adhesive surface is smooth, flat and dry before installing the light strips.
Install the cabinet lighting by peeling the paper off the tape and sticking it into place.
How do you hide LED strip under cabinets?
Hiding your LED cabinet lighting is easy to do and looks amazing. You should think about your cabinets and the options they give you. Here are two suggestion:
If your cabinets have an overhang on the front of them, then the front panel extends lower than the bottom of the cabinet. This gives you a great place to hide the strips. Just stick it up behind the overhang.
If do not have an overhang, you can position your LED cabinet lighting near the back of the cabinets, closer to the wall. This will keep them mostly out of sight from people standing in the kitchen.