LED lighting plays an important role in modern interior. Creative people embed LED lights perfectly in different areas of rooms such as living rooms, bedrooms and gaming rooms, giving just the exciting mood to each corner. Today we're giving you a few awesome ideas for using LED lighting to create a different atmosphere in your living room according to your mood.
Ceiling 
LED strip lights are normally used for general decoration; if your living room is lit with ceiling lights, then you can also install supplemental LED strip lighting. Using LED strip lights together with other types of lighting will make your living room feel different and more layered.
So how can you use LED strip lighting to add an understated elegance atmosphere in your living room without changing the layout? The most important thing is choosing the color of your lighting, which you can do based on your living room's style and your personal preference.
For a more cozy and relaxing living room, use a small amount of soft yellow lighting for a homely touch. If you are the kind of person who likes to host parties with lots of friends, you can use RGB strip lighting, matching different colors with different party themes, whether it be red for enthusiasm or pink for dreams; the possibilities are endless. You can also choose music mode led light, creating an immediate party atmosphere with lights that dance along with the music as soon as you switch it on.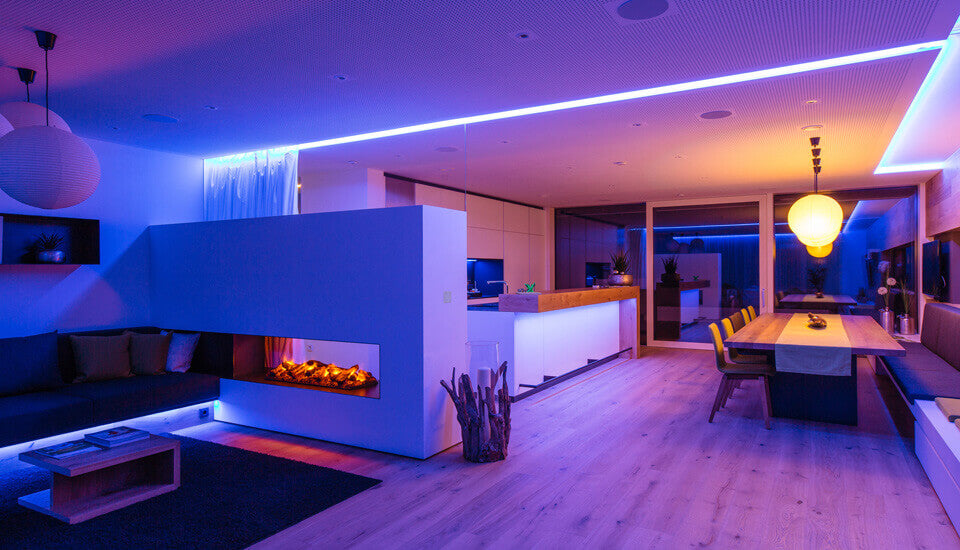 TV Background Wall
The TV background wall is an extremely important part of the decoration of a living room. LED strip lighting is a very good choice to make this area stand out, not only improving the viewing experience of your screens without investing thousands of dollars into a new smart TV, but also protecting your eyesight. Led strip lighting allows for sharper images and color contrast and also emits beautiful ambient light to your surroundings, but do note that it is best to dim it slightly, and also to avoid dreamcolor lighting, so as not to create extra strain on your eyes while watching TV.
Below the Sofa
LED strip lighting can be installed under the sofa, mainly to create a truly comfortable atmosphere. When you are lying on the sofa watching TV or chatting with your family, the yellow light from under the sofa will make the whole living room feel incomparably cozy. Of course, if you love holding parties, then the LED strip lights under your sofa can flash with different lights to match the atmosphere of your living room.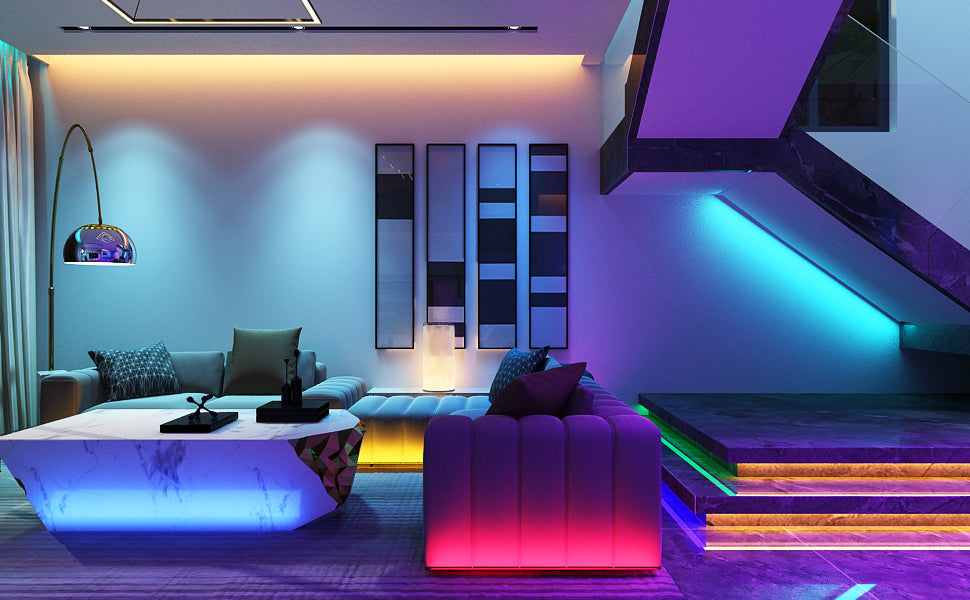 Coffee Table
Generally, LED strip lighting under the coffee table will match the lighting under the sofa. You can choose to only install it in a certain position under the sofa or under the coffee table, or in both places at once; you can choose depending on the effect of the installation in order to achieve your ideal lighting as simply as possible.